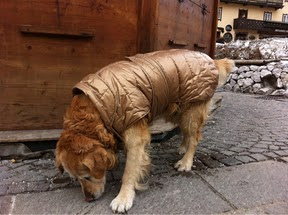 Dogs in shiny human made puff jackets, men and woman in animal fur coats... Michael Jackson and Aba raging in the caffe's. Cortina has happily integrated the 80's into there culture and unless we walked the streets in our lycria we simply didn't fit in.
We took in the views, tried to contain our laughter, and decided to shorten our stay to a couple hours.
The next day up the Martell valley we found ourselfs checking into a fully catered hut at 2600 meters. Surrounded by a deep snow pack and big peaks we spent the week exploring and on the third day with favorable weather we tagged a couple 3700 meter peaks.
Dropping back down to 1200 meters we are relaxing in the beautiful valley of Martell eating like kings and getting ready for the world cup on Sunday.
- Posted using BlogPress from my iPhone
Location:Italy