A world cup race, traveling half way across Europe and the Haute route made for a very busy week! Now resting in Areche we have time to tend to our beaten down bodies and reflect on the beautiful blur!
The Marmotta Trophy was very well attended and with near perfect conditions it had the ingredients to produce an amazing race. Topping out at 2990 meters twice and funneling down tight couloirs it had the zest to take your mind off the 1800 meters of climbing. Canada was very well represented with James Minifie, Andrew McNab, Melanie Bernier and my self all putting forth great performances. Melanie snagged a top ten finish, Andrew and James both taking a top 30 and I was able to place in the top 20 racing a couple of my skimo "idols". Obviously they were not performing at there best but none the less it was humbling and inspiring to be in the mix!
Saying good bye to Mel and Andrew we found ourselves doing some unconventional "training" where we were speed waddling with way to much luggage trying to catch connections to Chamonix. Arriving some what beat up we were starting to question our sanity as we prepared to do the Haute Route 5 days before the Pierra Menta. None the less we had a perfect weather forecast and we were not about to turn down an opportunity like this!
Taking the tram up to 3300 meters then skiing mogles down to meet the French army we quickly realized this was not going to be your typical traverse!
Passing the army we made quick work of the first climb and ended up meeting a special forces French army squad setting up a ski belay on the first col. They were very courteous and offered us there rope which allowed us to cruse right through the more technical section.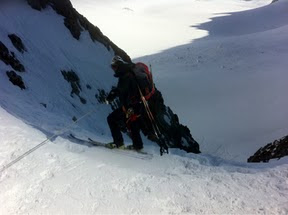 From here on we continued a high traverse over a couple cols trying not trip over our skis as we took in the stunning views.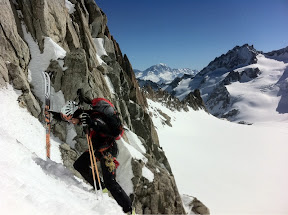 It wasn't long before we found ourselves skiing down into the next valley where we had lunch and took a shuttle to the next leg of the journey.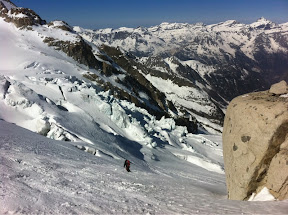 Day 2 was our big day and we knew we had to make quick work to get past the avalanche prone lake Dix before things heated up.
Trying to save a little time we cut a corner and skied a beautiful powder line down to lake Dix where we started a long traverse to the bottom of the last climb.
Stopping by the Dix cabin we decided to grab a few things to stock up our energy reserves. The care takers gave us the look of death when we told them that we were planning on continuing to the next hut. Questing our selfs for a moment we recalculated the climb to be only 900 meters and although it goes over a high pass at 3700 meters we knew a hut was always a short ski decent away. Pushing on through a couple bonks we found ourselves standing on the pass watching a beautiful sun set.
A little haggard we skied a short pitch down to the Vignettes hut (3157 meters) and arrived just in time for dinner.
Walking into the boot room was jaw dropping...
Planning to take the train @ 2:30pm to Chamonix we got an early start so that we wouldn't have to rush through the most scenic part of the traverse. Traveling over high glaciers we passed over 3 cols and found ourselves basking in the beauty of the Matterhorn.
From here we had a great ski right down to Zermatt.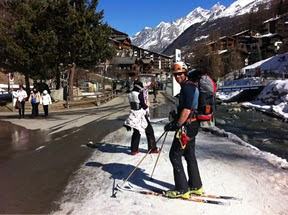 Being both of our first times in Zermat we did the tourist thing walking the streets in our dirty stinky Lycra. It was interesting to note that no cars were aloud and all the buses were electric making for a pretty quite and clean town. That's of course until you make it down town and find your self in what seems to be the chain smoking capital of the world!
Looking back I would highly recommend doing it early if conditions permit. Not only were we able to easily get into the huts but we were given our own rooms and with only 8 people in a 50 person hut its pretty relaxed. I guess another benefit is you get a chance to ski some fresh lines! :)
-Posted using BlogPress from my iPhone.
Location:France